From Chucky to the animatronics in Five Nights At Freddy's, some of the scariest characters in pop culture are not actual humans, but dolls. Despite being inanimate objects, they often are more than they appear and can elicit real terror. Nominate your creepiest dolls across TV, movies, books, games, and more.
Leave a comment below with your creepiest doll nomination. Bonus points if you have an image or animated .GIF to go along with it!
Check back on January 18th for the final Fan Facts list to see if your submission made the cut!

Here's an example of an interesting fact:

Along with Golden Freddy (from the second game), Springtrap is one of the few animatronics without a confirmed starting location.

For now check out the trailer for the upcoming horror film The Boy.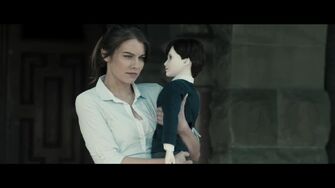 In theaters January 22nd, 2016.
---
---
Ad blocker interference detected!
Wikia is a free-to-use site that makes money from advertising. We have a modified experience for viewers using ad blockers

Wikia is not accessible if you've made further modifications. Remove the custom ad blocker rule(s) and the page will load as expected.